THE LAVENDER LINE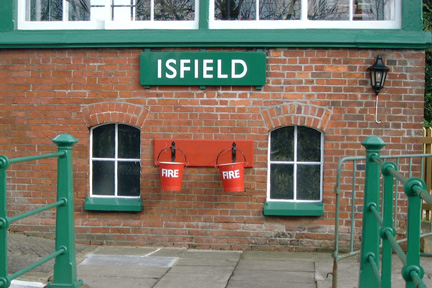 Signal box at Isfield Station, East Sussex.
---
THE LAVENDER LINE
Isfield Station:
A perfect snapshop of a rural line in the days of the Southern Railway, the award winning buildings at Isfield Station are a fine example of what can be achieved by volunteers working to preserve our railway heritage.
Making waiting interesting:
The waiting room on the down platform houses a well stocked gift shop. Inside there is plenty to amuse the younger enthusiast and a good range of souvenirs. You might find that mug with your favourite locomotive on it that you have been looking for; or you may just wish to browse through the shelves of quality second hand books.
Cinders Buffet
This well appointed facility is open all day providing drinks and refreshments for weary enthusiasts and their families. A variety of home cooked cakes are available to accompany your tea or coffee etc if desired. For lunch you can choose from a range of sandwiches, light snacks, salads, hot meals and desserts, all freshly prepared or cooked to order. (The fruit flan is a must.)
Letting off steam:
Families are well catered for at the Lavender Line. This children's play area is a perfect place for the younger enthusiast to let off a little steam. There are picnic tables nearby so parents can watch and supervise, perhaps while also enjoying a drink in the sunshine.
Public Transport
It's true, the Lavender Line is on a bus route and this picture proves it. Brighton and Hove Bus Company's Route No 29 operates between Brighton and Tunbridge Wells, and stops at Isfield. Select your preferred mode of travel...
Other Facilities:
The Lavender Line offers plenty to occupy all visitors, young and old. There is a visitor coach housing displays of photographs of different stages of work on the line, and much information about its preservation. A new model railway has been built in the original Lavender & Sons railway coal office. This features well detailed scenery and a range of working models, some of which are from the 'Thomas' series and there are also others well suited to the more mature enthusiast. There is a picnic area on the platform and an observation point on the embankment, from where you can watch or photograph the trains or enjoy a picnic in the woods away from the noise and bustle of the station.
---
A BRIEF HISTORY OF THE LINE

The Lewes and Uckfield railway was incorporated on 27th July 1857 to build a line between the two towns, and was officially opened on the 11th October 1858. A week later it was opened to the public and was subsequently swallowed up by the London Brighton and South Coast Railway on 31st May 1860. Initially there were four stations, Lewes, Barcombe Mills, Isfield and Uckfield, though the line was soon expanded north of Uckfield through Buxted, Crowborough and Eridge to Groombridge. Just south of Barcombe Mills was Culver Junction were the line branched north west through Barcombe, Newick and Chailey, Sheffield Park, Horsted Keynes, West Hoathley, Kingscote to East Grinstead. The line became part of the Southern Railway at grouping in 1923, later becoming part of British Railways at nationalisation in 1948. The last BR train ran on 23rd February 1969, after which followed a long period of neglect and decay until the Isfield section was privately purchased in the 1980s. The railway was purchased by the Lavender Line Preservation Society in 1991.
For more information about the history of the Lavender Line and some stunning photographs both of the early days and of more recent times, please see their website.
---
For further information: Please call Clive or Sue on (01903) 207 587 or email us with your query.
For course availability see our vacancies page.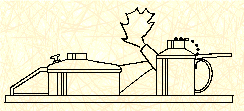 Back to home page.